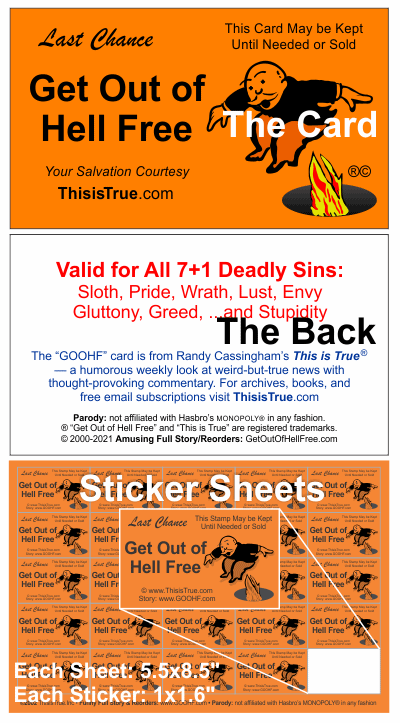 Tired of self-appointed moralists (who are usually anything but moral themselves) who demand to dictate how you should think and what you should believe? Our card is the ultimate reply when you want freedom from their religion.
The Get Out of Hell Free card says "I'm comfortable with my own beliefs, thank you" — an attitude of true freedom of religion whether you choose to follow a mainstream religion or not.
What the Hell?
Randy Cassingham's life mission is to get people to think. His email newsletter This is True® (basic subscriptions free since 1994 — Click Here for Subscription Form) is the flagship for that: the weird-but-true stories entertain (so they're fun to read), and over time you can't help but think about the issues raised.
Years ago, a reader thought a 100ish-word story about the Chinese art of feng shui was "anti-Christian" and therefore, because he wrote it, Randy is (without a doubt!) going to hell.
So much for thinking!
Randy figured that if a self-appointed moralist could condemn others to her version of religious hell with the snap of her mind, he certainly had the power to get us all out again. Thus the Get Out of Hell Free (or "GOOHF") card was born.
Designed by Randy himself, he offered them to his readers for the cost of production and mailing — and they went wild, ordering 100, 500, and more at a time …and then coming back for more.
Clearly they are also tired of someone else's religion being forced on them. That's anything but freedom — of religion, of thought, of life.
(Read the complete story of the Get Out of Hell Free card's origin, and why Randy thinks they are so popular.)
Eternal Uses
Someone at the door interrupting dinner wants to convert you? No need, you can tell them: you're already saved. They'll be trying to figure out the card as the door slams.
Want a great way to tell your boss you quit? A Get Out of Hell Free card says it all (now that's freedom!)
A nasty customer is rude to a sales clerk? Starting your transaction by handing her a card will make her day (waitresses especially love them), which gives them freedom from the purgatory others thrust on them.
The cards are a lot of fun to hand out! Randy's given away many thousands, and still enjoys it.
Hence our slogan: Sin all you want, we'll print more.
Get Out of Hell Right Now
GOOHF cards are business card-sized (2×3.5″) and printed in the USA on heavy matte card stock. They're just $10 per pack of 100 cards, plus shipping. For large quantities, Jumbo Packs are available at a discount for your mass salvation needs. Order either one here.
GOOHF Stickers! Sheets of 25 1×1.6″ stickers are perfect for your mail, books, locker, shirt and other spots. Just $5 for five sheets — 125 stickers in all!
And more! Laser-engraved sticky note holders, static-cling window decals, and other items: check our shopping cart for all of the available GOOHF Goodies, including our popular long-lasting plastic GOOHF cards.
Buy only what you need: because the cards are priced at the break-even point, they are not returnable.
To Order the Cards:


Or See other order quantities/options.
Find This is True on Mastodon.